The 2023 Honda Pilot: Unveiled at Davis Honda in Burlington
Please contact Davis Honda for current lease and finance offers.
Are you ready to get behind the wheel of a powerful, responsive, and feature-packed SUV that's perfect for solo trips and longer drives with friends and family? Then the new 2023 Honda Pilot is the perfect vehicle for you! For 2023, the Pilot has been completely redesigned inside and out to better support you during any adventure. With rugged all-terrain tires and improved cargo volume, you'll immediately love the efficiency and impressive performance of this mid-size SUV. The Pilot also provides surprising spaciousness, top-grade materials, and one-of-a-kind tech options to keep you engaged on the road. Let's take a closer look at what makes the 2023 Honda Pilot one of the best SUVs in its class.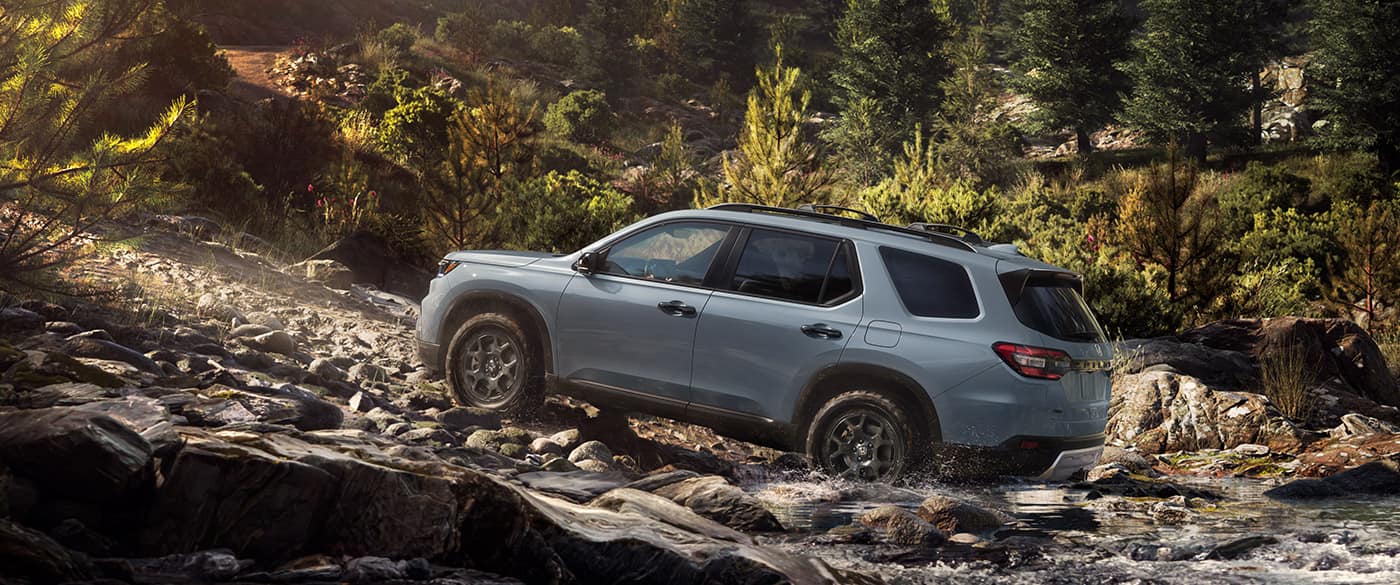 Updates for 2023
For 2023, the Honda Pilot comes with a complete overhaul of new features and capabilities. At Davis Hond, this SUV arrives with a bold new exterior, an upgraded interior, and more advanced features to match any lifestyle. For example, the vehicle's new rugged appearance includes a bold grille and distinct LED taillights with available 20-inch alloy wheels for heightened performance. The interior offers a new stowable second-row seat that seamlessly folds down into a storage area until you need to maximize the comfortable seating capacity that supports up to eight people. This impressive Honda also comes with a feature that lets you speak directly to rear passengers through the back speakers. This can be especially helpful on the road during longer family road trips.
Incredible Performance
For rugged off-road excursions and relaxing drives down the highway, the 2023 Honda Pilot is ready to support your travels. An updated i-VTM4 All-Wheel-Drive system improves the Pilot's stability and traction so it can handle all types of terrain. For extreme off-trail adventures, drivers can also upgrade to the Pilot TrailSport setup for an off-road tuned suspension. The pilot's all-new 3.5-liter V-6 engine is also featured, delivering incredible power and performance for reliable capabilities wherever you go. The new Pilot even comes with off-road tires and a unique seven-mode drive system to ensure you're behind the wheel of one of the most well-equipped SUVs available. Lastly, the 2023 Honda Pilot is built to tow up to a massive 5,000 pounds!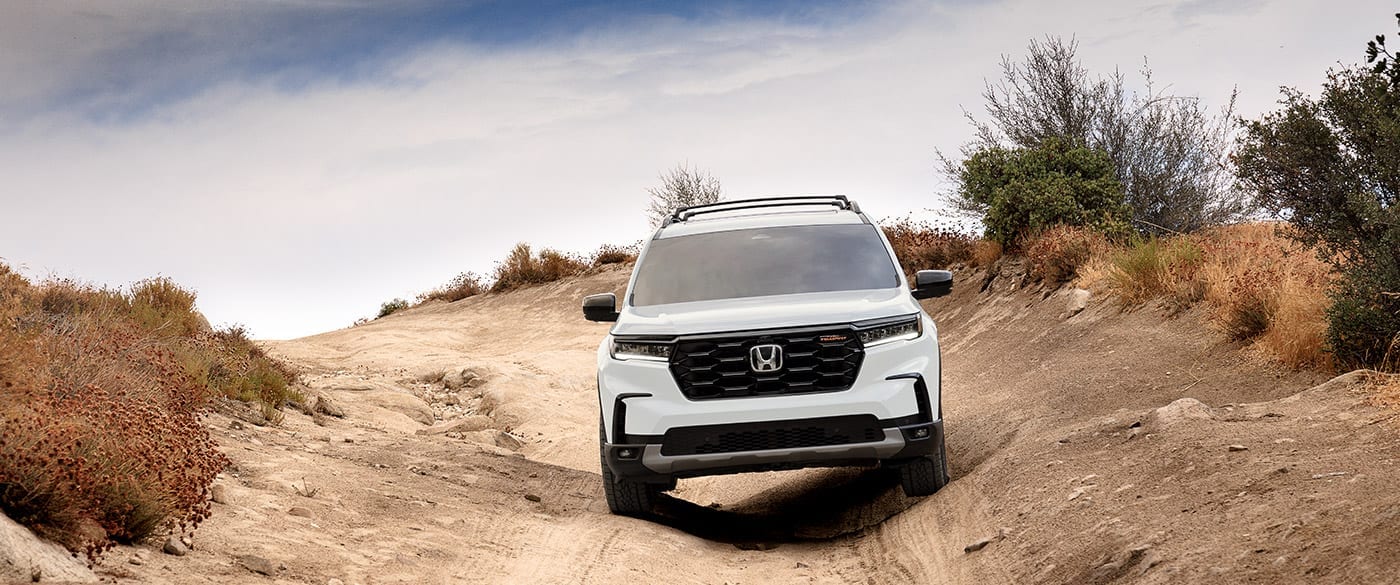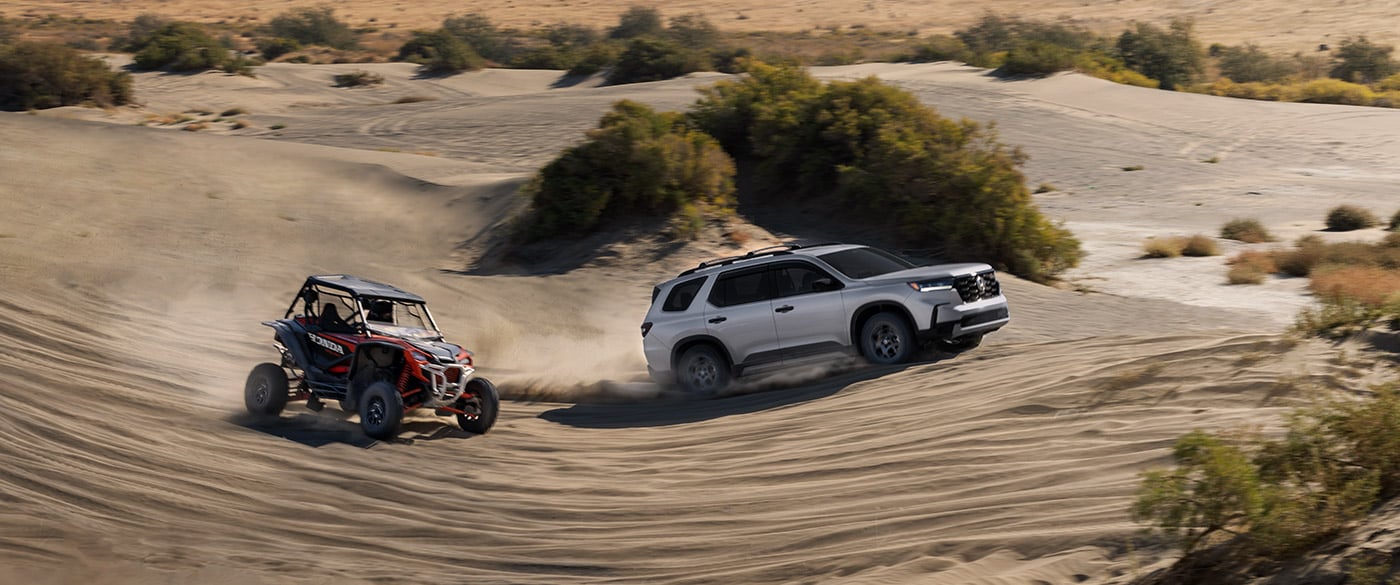 Cutting-Edge Tech & Safety
The updated interior of the 2023 Honda Pilot offers something for every adventure. Three spacious rows of relaxing seating let you take the whole family along, and a stowable second-row center seat is conventionally available on the go when you need it! You'll also get a vivid nine-inch touchscreen, improved cargo volume that measures 87 cubic feet with the seats folded down, and ventilated front seats for truly deluxe rides and practical comfort that the new Honda Pilot was built to offer. For trusted safety, the Pilot also comes with the Honda Sensing System, so that you and your passengers will stay out of harm's way wherever you travel. Additionally, the 2023 Honda Pilot features a new wide-view camera and radar. You'll drive with confidence in the new Honda Pilot-on and off road!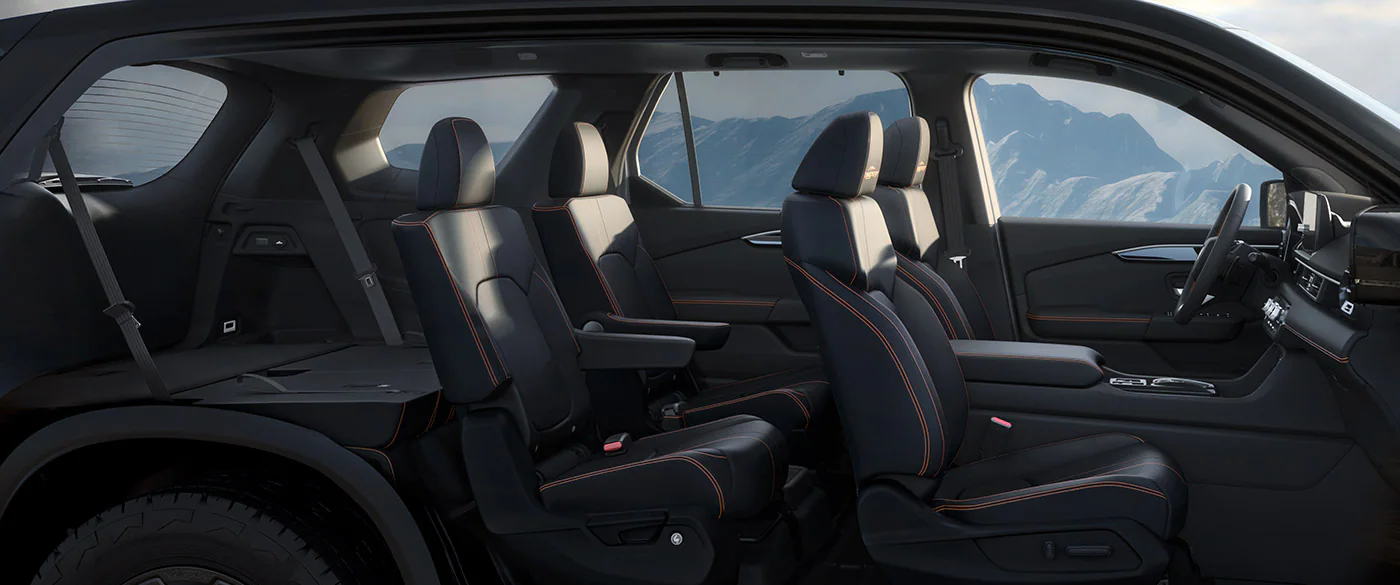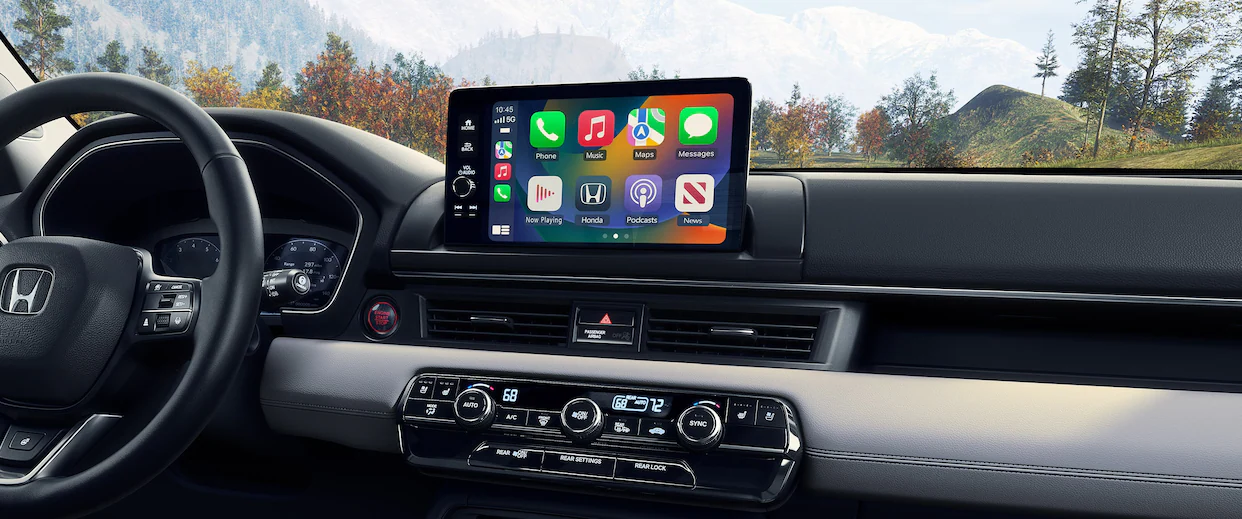 The 2023 Honda Pilot is designed with plenty of power under the hood, the latest safety features, and all the deluxe amenities and infotainment options you could want for both short commutes and exciting excursions across the backwoods trail. To learn more about the 2023 Honda Pilot, contact Davis Honda and feel free to take a look at our available inventory online. You can also visit our dealership in Burlington, NJ. We're looking forward to helping you!