The 2023 Honda Accord: Revealed at Davis Honda in Burlington
Please contact Davis Honda for current lease and finance offers.
The Accord is Honda's signature midsize sedan that continues to impress drivers around the world! The automaker has pulled out all the stops with the 2023 Honda Accord, elevating this already remarkable car to new heights of value, refinement, and innovation. With its stunning exterior design, luxurious interior, and top-of-the-line safety features, the 2023 Honda Accord is the ultimate choice for anyone seeking a thrilling and unforgettable driving experience. Don't settle for an ordinary sedan - get behind the wheel of the 2023 Honda Accord and experience the excitement for yourself!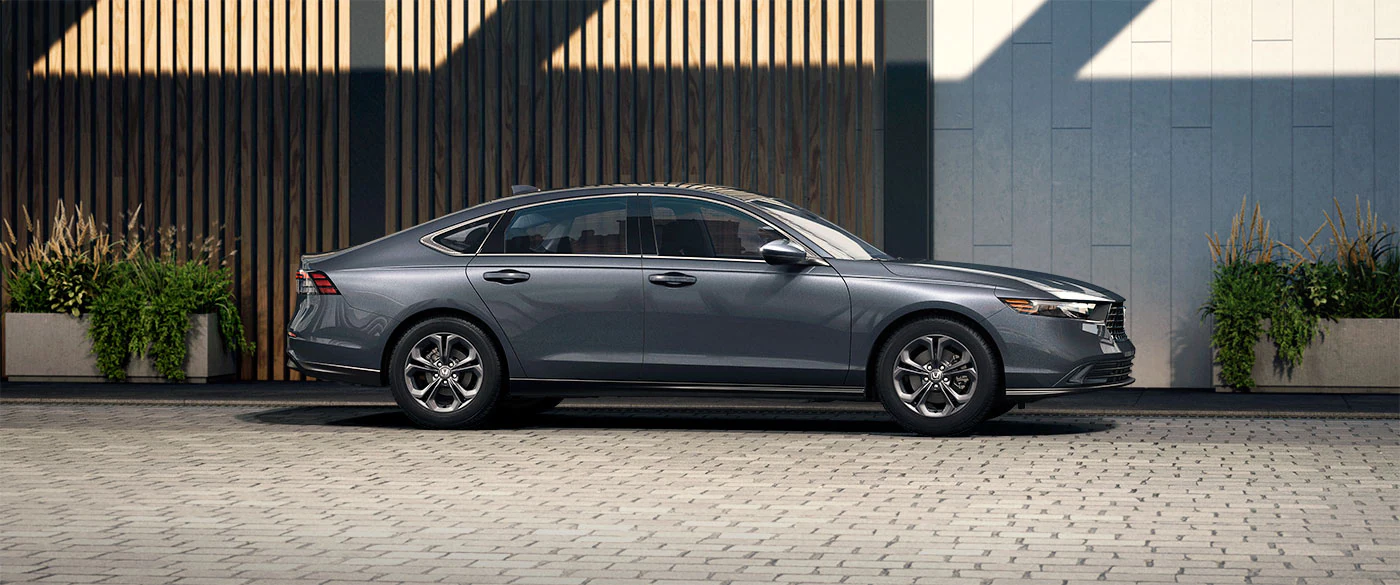 Diverse Power Options
Under the hood, the 2023 Honda Accord offers two engine options - a 1.5-liter turbocharged 4-cylinder engine that produces 192 horsepower and 192 lb-ft of torque, and a 2.0-liter turbocharged 4-cylinder engine that puts out 252 horsepower and 273 lb-ft of torque. Both engines are mated to a 10-speed automatic transmission, providing smooth and efficient power delivery. Additionally, the 2.0-liter engine is available with a 6-speed manual transmission for drivers who prefer a more engaging driving experience. The Accord Hybrid, which pairs a 2.0-liter 4-cylinder engine with an electric motor, delivers 212 horsepower and exceptional fuel economy, making it an excellent choice for eco-conscious drivers.
Engaging Tech Features
At Davis Honda, the 2023 Accord also comes loaded with advanced tech features that enhance the driving experience and riding quality for everyone in the vehicle. The infotainment system features an 8-inch touchscreen display, which is responsive and easy to use. It also includes Apple CarPlay and Android Auto integration, allowing drivers to seamlessly connect their smartphones and access their favorite apps and music. The Accord also comes with a host of driver-assistance features, including adaptive cruise control, lane departure warning, and automatic emergency braking, providing drivers with bolstered peace of mind on the road.
Advanced & Trusted Safety
Honda has always been known for its commitment to safety, and the 2023 Honda Accord is no exception. The Accord comes standard with a suite of advanced safety features, including forward-collision warning, automatic emergency braking, and lane-departure warning. Additionally, the Accord offers an available blind-spot monitoring system and rear cross-traffic alert, which are particularly helpful when changing lanes or backing out of a parking space. The Accord also received top scores from the National Highway Traffic Safety Administration (NHTSA) and the Insurance Institute for Highway Safety (IIHS), making it one of the safest vehicles in its class.
The 2023 Honda Accord is a top-performing midsize sedan that offers exceptional value, performance, and safety. With its refined styling, powerful engine options, advanced tech features, and supportive safety suite, the Accord is sure to impress even the most discerning drivers. If you're in the market for a midsize sedan, the 2023 Honda Accord is definitely worth a closer look. For more information about the 2023 Honda Accord, contact Davis Honda and don't hesitate to take a look at our available inventory online. You can also visit our dealership in Burlington, NJ. Our team looks forward to helping you!